Kobo Enterprises Ltd., headquartered in Hong Kong, China, is an industry leader in professional product imprint equipments, plastic product manufacturing and product imprint services. Kobo's extensive product line enables business worldwide to solve their problem in product imprint. Kobo products include hot stamping, heat-transfer machines, Pad-printing machines, silk-screen printing machines, water-transfer paper, wheels for toy car, suction cups and related accessories, stationeries, plastic premiums and promotional items. With tremendous investment in R&D, we have specialized skills in providing product imprint solutions. In total, Kobo Enterprises Ltd. employs more than 500 people in Hong Kong and Guang Zhou, China.




Kobo have over 30 years of experience in product development and manufacturing. We have over a 20,000 sq. ft. office, warehouse, and production plant in HONG KONG and 2 production plants in CHINA with over 23 accers of industrial area and a total of 300,000 sq. ft. production floor area. Kobo has in-house molding, plastic and metal factory which strongly enhance our flexibility to handle any orders.
With tremendous amounts of investment in equipments, facilities and Research & Development, we handle all steps of production, from sourcing raw material to printing and packing. In addition, our strong R&D department constantly creates up-to-date models to widen your selection. OEM and ODM orders are welcome.




Founded in 1975 by Mr. H.C.Ng, Kobo had it's beginning as a fashion jewelries, metal parts and gearboxes for toys manufacturer. Mr. H.C.Ng spent his youth apprenticing in mechanical design. Subsequent employment with several giants of the industry further layed the basis for his expertise in the plastic manufacturing, design of molding and design of hot stamping equipment. In 1990, his expertise is further recognized publicly. TC-900 Multi Hot Stamping Machine, which is designed by H.C. Ng, has won Certificate of Merit in the Governor's Award for Industry Machinery and Equipment Design Competition. Today, the Kobo's line of hot stamping machines include over 14 different models with applications among different shapes (e.g. and materials. In addition, we have diversified our products and services and achieved our goal of being the total solution provider in product imprint.
In 2004, Mr. H.C. Ng has been awarded Fellow in Mechanics and Metal In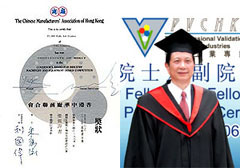 dustry (FMM) by The Professional Validation Council of Hong Kong Industries. Furthermore, through his article publishes and achievements in the industry, Mr. H.C. Ng has been awarded Fellow in Management & Business Administration (FMBA) of Council in 2006, which is also the highest award presented by the Council in the year.